Richardson Bay was named as one of 148 Important Bird Areas in California in the publication Important Bird Areas of California by Daniel S. Cooper, 2004.
What are Important Bird Areas?
Important Bird Areas are sites that provide essential habitat for one or more species of birds. Important Bird Areas have been designated around the world as part of an international global effort. Important Bird Areas include sites for breeding, wintering, and/or migrating birds. These sites may be a few acres or thousands of acres, but usually they are discrete sites that stand out from the surrounding landscape. Important Bird Areas may include public or private lands, or both, and they may be protected or unprotected.
California Important Bird Areas are:
Less than 100,000 acres in extent
Biologically and geographically distinct
Satisfactory in meeting one of the four criteria below.
Four criteria were used in identifying California IBAs:
More than 10% of California's or 1% of the global population (breeding and/or wintering) of one or more sensitive bird species are supported by the site
More than 9 federally or state-listed threatened or endangered species are supported by the site
More than 10,000 shorebirds are possible on a 1-day count
More than 5000 waterfowl are possible on a 1-day count
Audubon California's Important Bird Area program benefited from hundreds of volunteer hours and involved dozens of technical advisors who provided data and reviewed sites for inclusion as Important Bird Areas. In 2004, Audubon publishedImportant Bird Areas of California by Daniel S. Cooper. This book describes California's 148 Important Bird Areas and is now being used by local activists, public agencies and conservation groups to guide conservation activities at these sites.
Beginning in May 2006, Audubon California focused on prioritizing Important Bird Areas for conservation action and developing partnerships with Audubon chapters, public agencies, and conservation organizations to help protect and monitor Important Bird Areas.
Audubon California is focusing its conservation work on a number of high priority Important Bird Areas – the San Francisco Bay, Salton Sea, Imperial Valley, Kern River Valley, and Southern Orange County among several others:
Where are the IBAs in San Francisco Bay ?
Marin County
Nearest town(s): Tiburon, Mill Valley
Size: 3000 acres
Sensitive species: 3 (Long-billed Curlew, San Pablo Song Sparrow (Shuford 1993); Ridgway's (formally San Francisco Clapper) Rail (R. Hinz, K.Wilcox, pers. obs. 2006).
Local Audubon Chapter: Marin
Description: Richardson Bay is located just north of San Francisco in southeastern Marin County in the urbanized middle section of San Francisco Bay across from Berkeley. Much of the shoreline has been filled and rip-rapped, but a few sections are less disturbed. A small area in the northwest, Bothin Marsh, is managed by Marin County Open Space District. This wetland, along with the wetlands of Corte Madera, represents the majority of the tidal marsh habitat of west-central San Francisco Bay. Nine hundred acres of open water are protected as the Richardson Bay Wildlife Sanctuary under the management of the National Audubon Society, which has maintained a small interpretive center and sanctuary since 1958 on 11 acres of coastal scrub, riparian thicket and oak woodland.
Birds: The large numbers of waterfowl during high tide and shorebirds during low tide that find refuge in the sanctuary make it an important link of habitat in an otherwise urbanized portion of San Francisco Bay between extensive refuges to the north and south. Over 16,000 Scaup (Greater and Lesser) have been recorded within the Audubon sanctuary alone (K. Wilcox, unpubl. data), and it averages ~4,500 ducks & geese during the winter, mainly Scaup, Ruddy Duck, and Bufflehead (K. Wilcox, pers. comm.). Hundreds of shorebirds, especially Least Sandpiper, Dunlin, Willets and Marbled Godwits, utilize the exposed mudflats of Bothin Marsh and the greater Richardson Bay daily during migration.
Conservation issues: The Bay waters under the protection of the Sanctuary are closed to boat traffic from October 1 until March 31 of each winter in order to prevent disturbances to wintering and migrating waterbirds. Several species of waterfowl that were once more common on the Bay such as Canvasback and Surf Scoter have not been seen as frequently as in past years, and one species, Brant, has rarely been seen at all. The upland portions of this Important Bird Area are extensively invaded with exotic vegetation (e.g. French Broom, exotic plum trees, Cotoneaster, European annual grasses, etc.). Currently the Richardson Bay Sanctuary and Center is conducting experimental reintroductions of native eelgrass and oysters within Bay waters.
The San Francisco Bay Area is a major region of endemism, hosting three recognized races of Song Sparrow, as well as the Saltmarsh Common Yellowthroat and the California Clapper Rail. The wetlands of San Francisco Bay support a half-million shorebirds during migration and winter, and those of the Sacramento-San Joaquin Delta (often included with San Joaquin Valley bioregion) provide the ecological link between the Pacific coast and the Central Valley. Among its millions of wintering waterfowl, the Delta supports most of the world's wintering population of Tule White-fronted Goose, as well as large numbers of Sandhill Crane and Tundra Swan.

San Francisco Bay is recognized as a Western Hemisphere Shorebird Reserve Network (WHSRN) Site of Hemispheric Importance for shorebirds – the highest possible ranking.
http://www.whsrn.org/site-profile/san-francisco-bay

Based on interviews with local experts, it was concluded that nearly every stretch of coastline in north San Francisco Bay (including San Pablo Bay) fit at least one Important Bird Area criteria. Due to the exceptionally intact configuration of the wetlands rimming San Pablo Bay and the obvious exchange of birds around the North Bay, this was identified as a single Important Bird Area, basically extending from the "Marin Baylands" north up the Petaluma and Napa Rivers, and east to Mare Island. Smaller, isolated areas of the Marin shoreline, Corte Madera Marsh and Richardson Bay, were identified as separate Important Bird Areas.

Below is a list of IBAs designated within the waters and associated habitats of the San Francisco Bay area:

Richardson Bay IBA contact:

Andrea Jones, Director of Bird Conservation
Richardson Bay Audubon Center & Sanctuary
376 Greenwood Beach Rd
Tiburon , CA 94920

ajones@audubon.org
Ph (415) 388-2524 x113
Fax (415) 388-0717
How you can help, right now
Make a gift today
Help us engage future conservation leaders! When you sponsor a youth leader, you help the birds.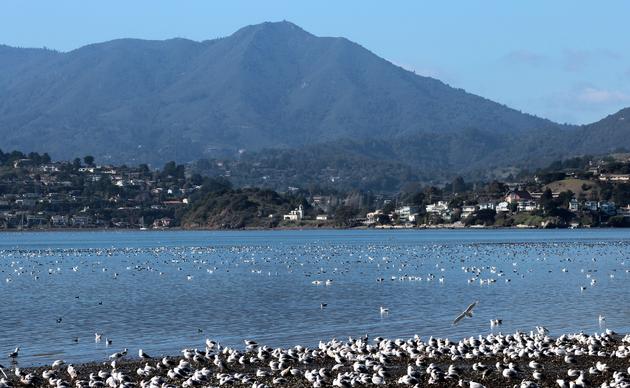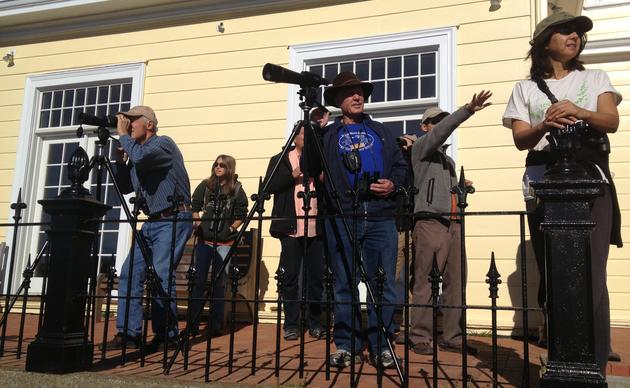 Read our stories
Our bi-monthly e-newsletter is filled with incredible updates about our work.