Rebecca Schwartz Lesberg, San Francisco Bay Program Director, 415-388-2524 x108
Rebecca leads Audubon California's San Francisco Bay Program, using science-based conservation to protect one of North America's most important estuary systems. Focusing on the intersection of policy, science, restoration, and management, the San Francisco Bay Program works across disciplines and ecosystems to conserve birds and their habitats.
Prior to this role, Rebecca led the conservation program at San Diego Audubon, where she worked since 2012 to protect and restore coastal habitats for birds in Southern California. After San Diego Audubon, Rebecca relocated to the San Francisco Bay Area to head Coastal Policy Solutions, where she worked with non-profit partners (including San Diego Audubon and Audubon California) throughout the state to advance on the ground conservation action.

With experience in the private and non-profit sectors, including as a Biologist for AMEC Foster Wheeler and later as Director of Conservation for San Diego Audubon, she understands the varied interests involved in conservation. Rebecca holds a Bachelors of Science in Ecology from UC San Diego and conducted graduate work at the University of San Diego studying the historical ecology of sportfishing in San Diego Bay.
Rebecca has been published in the San Diego Union Tribune and featured in the Los Angeles Times, and was awarded a 2014 President's Volunteer Service Award from President Barack Obama.
Andrea Jones, Director of Bird Conservation (CA), 415-388-2524 x113
Andrea Jones is Director of Bird Conservation for Audubon California. For the past 13 years, she has worked with staff and the network of Audubon chapters across the state to implement conservation projects at high priority Important Bird Areas. In particular, she has focused on leading Audubon's conservation efforts along the coast and in estuaries, focusing on restoration, advocacy and engagement. Her work has also included providing science expertise and negotiating conservation agreements at saline lakes, including Owens Lake and Salton Sea. She oversees our efforts in priority bird species and serves as the spokeswoman for bird conservation across California. Prior to California, Andrea worked at Massachusetts Audubon where she served as the Director of the Coastal Waterbird and Grassland Bird Programs. Andrea received her M.S. in Wildlife Conservation/Ornithology from the University of Massachusetts, Amherst, where her research focused on metapopulation dynamics of grassland sparrows.
Casey Arndt, Center Director, 415-388-2524 x111
Casey responsibilities include sanctuary operations, property and facility improvements, and managing our events and outeach. She also focuses on Richardson Bay's Audubon Youth Leaders program, working with teens from alternative programs and the juvenile justice system on conservation leadership. Casey manages a staff of summer employees and seasonal biologists, interns and youth to deliver Audubon Adventure Summer Camp.
Before coming to Audubon, Casey spend 10 years working with youth in formal and informal environmental education settings, taught special education, and was a volunteer firefighter for the Seward Volunteer Fire Department in Alaska. Prior to her work, she received her B.A. in poetry and creative writing at a small liberal arts college and is originally from an Athabascan village of 300 people in rural Alaska. Casey grew up mushing a sled dog team, driving snowmachines, and immersing herself in the Alaskan wilderness. When she's not working, Casey loves birdwatching, being in nature, and writing.
Fabiola Torres, Community Engagement Coordinator, 415-388-2524 x106
Fabiola builds relationships with local groups and individuals, and aligns their interests with local conservation needs. As the Community Engagement Coordinator, she provides crucial staff support across a suite of programs focused on volunteer-based restoration of native habitats in San Francisco Bay (mostly on/near Richardson Bay Audubon Center and Sanctuary), and engagement of community members in the work of the program and center, including waterbird surveys and Aramburu Island enhancement. Fabiola also manages of our native plant nursery and drives our boat. If you attend an Aramburu Island restoration day event, she might be the one taking you there!
Fabiola grew up in a rural area of Puerto Rico where she was taught to value the island's natural diversity. This upbringing shaped an enthusiastic nature advocate and community-oriented individual. She obtained her Bachelor's Degree in General Biology in Aguadilla, Puerto Rico, while working a part-time job as a Park Ranger at the Cabo Rojo National Wildlife Refuge. She worked there for five years educating the public about the environment, conducting wildlife surveys, restoring and conserving native habitat, propagating and transplanting native and endangered species, assisting in training and mentorship, and managing the volunteer program. Fabiola developed a passion for birds while participating in research conducting point counts at Guajataca State Forest on the island of Puerto Rico.
After graduating, she worked as a Biological Science Technician for the U.S. Department of Agriculture studying small Indian mongoose in Puerto Rico. In 2018, Fabiola moved for the first time and landed in California to work as an Interagency National Monument fellow for the Hispanic Access Foundation and the U.S. Forest Service at Berryessa Snow Mountain National Monument. In this job, she was responsible for the planning of land management practices and public education. A big role in her position was to reach out to the Hispanic community and invite them to enjoy our public lands.
With her culturally diverse background, bilingual fluency in Spanish and English, and her commitment to the environment, she will continue her community engagement so that people know Richardson Bay Audubon Center & Sanctuary is open for all.
How you can help, right now
Make a gift today
Help us engage future conservation leaders! When you sponsor a youth leader, you help the birds.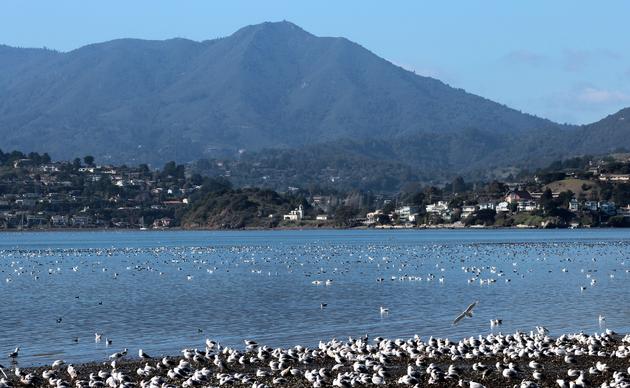 Oyster Club
Join us at sunset for oysters, wine, and music on the beach followed by elegant picnic fare at the Richardson Bay Audubon Center on October 12.
Quill Festival
Watch world-renowned tattoo artists give bird tattoos, learn bird language, enjoy beer and food trucks, stroll on the beach, listen to Artic tales, and take action on climate change.