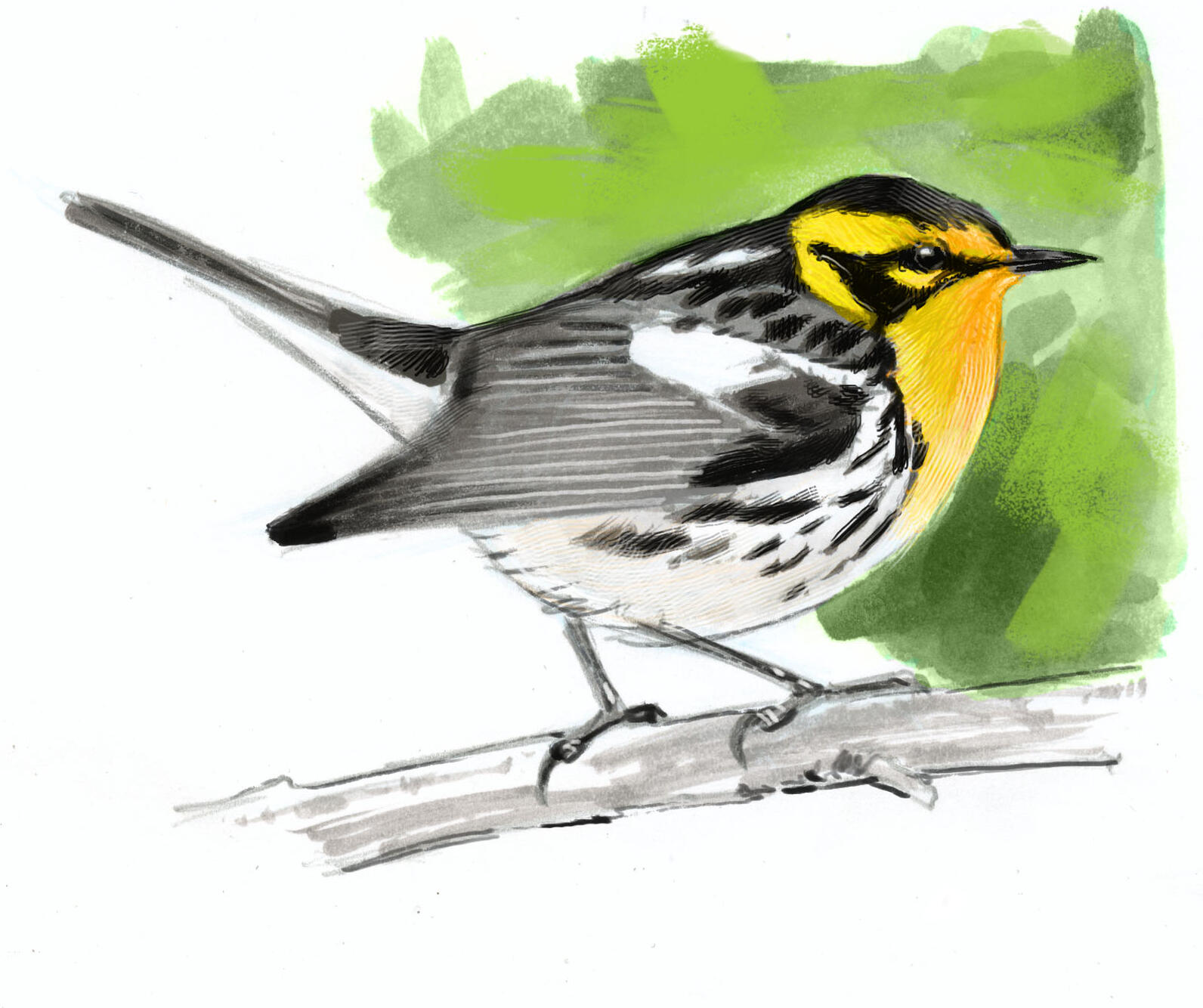 Part 1: Let's Draw Warblers: Anatomy and Angles
Celebrate spring migration by learning to capture the beauty and energy of warblers in this drawing and nature journaling class with acclaimed artist, author, educator, and scientist John Muir Laws.Learning about the anatomy of warblers will help you draw them more accurately. We will also practice drawing the head and body of warblers from various angles. We will utilize photos and videos to practice our techniques.
Part 2: Let's Draw Warblers: Bringing Your Warbler to Life
Make your warbler drawing come to life with tips about feather texture and placement of legs, feet, eyes, and beaks. We will also practice fast-sketching techniques to help you sketch warblers in the field.
Let's Draw Owls: Anatomy and Angles
Learning about the anatomy of owls will help you draw them more accurately. We will also practice drawing the head and body of the owl from various angles.
Let's Draw Owls: Feathers, Textures, and Environment
Owls have incredible camouflage, which also can make them confusing to draw. Learn some tips to make your owl come to life. We will also practice drawing owls in their environment, such as perched in dense trees.
Birder's Field Journal FUNdamentals: Learn how you can use words, pictures, and numbers to record your bird observations. Each of these modes of data collection will stretch your brain in different ways—they are fundamentally different and complementary.
Birder's Field Journal Pro Tips: Join Jack and his sketching buddy Fiona Gillogly, an avid teen birder and prolific nature journaler, as they explore a playful variety of journaling approaches that open the doors to different aspects of bird life and behavior. They will share pages from their journals, share tips, and demonstrate techniques that will inspire you to record your bird discoveries in new and creative ways.
How to Make Bird Drawings Come Alive: Do your bird drawings feel stiff or frozen? Unlock the life in your bird drawings by showing less and suggesting more. Learn advanced bird drawings techniques to help you simplify plumage and suggest detail with a few strokes. These techniques will bring more life to your birds and are essential for fast field sketching. Safety note, in accordance with COVID-19 safety guidelines, all the birds we draw will be masked (masked duck, masked finch, masked bobby, masked lapwing etc.) Bring a pencil, paper, and a sense of humor!
Masked Shrike Worksheet

Rotating Birds and Drawing them at all Angles: Say goodbye to static side views and draw birds every which way they land. A few basic visualization techniques will help you see the pose in the field and capture it on paper. In honor of Latinx Heritage Month, we will be drawing birds found in Central and South America.
Drawing Raptors and other Large Birds in Flight: In this class, we will combine two critical elements: a functional understanding of bird structure, and key principles of foreshortening. Be sure to print out and fold the paper bird models we will send you before the class. They will help you see, understand, and draw flying birds and help solve key points of confusion.

How to Draw Garden Birds: Learn how to capture the form and feeling of sparrows, warblers, and other common songbirds with fast and efficient lines. Learn key anatomical details to help you draw them accurately in the field or in the studio.

How to Draw Waterbirds: Learn the key foundation lines for drawing waterfowl and wading birds. Draw ducks in and out of the water and learn tricks to show the shape of long legs and necks on herons, egrets, and shorebirds. We will also study the way that feather groups overlap to simplify the plumage.

How to Draw Raptors: Learn to draw hawks, eagles, and owls. In this workshop we will explore how to sketch perched raptors and learn to draw the birds from the front, side, and 3/4 view.
PLEASE CONSIDER A DONATION
John Muir Laws is teaching these classes for Audubon at no charge to you or to us. His mission is to connect people to art, science, nature, and conservation through field journaling. Please show your gratitude for this wonderful free opportunity by making a donation to support John Muir Laws here.