About
Volunteer Spotlight
We are always looking for people to come and help us.
Sarah Peitz
July 2018
Sarah Peitz, 17, joined the Richardson Bay Audubon Center & Sanctuary volunteer team in June 2019. She's helping with a variety of projects such as landscaping and caring for the plants in the native plant nursery. Sarah is also working as a volunteer naturalist for our summer camp.
A student of Saint Ignatius College Preparatory, Sarah came to the center looking for a place that matched her interest in environmental science and was close to home. As a previous camper at Audubon Adventure Summer Camp, she wanted to provide the same nature-based experience she received as a young person to others. Over the course of the summer, Sarah has learned the virtue of patience and "the importance of nature and an education" at an early age. Her favorite experience at summer camp so far is helping facilitate a pollution in the bay activity and one of the campers did not want to add pollution to the water even though it was just an experiment.
Sarah's Audubon experience has benefited her in many ways. She has "learned the importance of giving back" and now has "a greater appreciation for the outdoors," which wouldn't have been achieved without volunteering at the center.
In the future, Sarah hopes to major in environmental science or writing. Sarah would recommend volunteering at the center and the summer camp to anyone, but advises incoming volunteers "to remain patient."
Thank you Sarah for all of your help!
Meredith Foster
October 2018
Meredith Foster began volunteering at Richardson Bay Audubon in July 2018, and since then she has helped with numerous Aramburu volunteer work days, native plant nursery projects, and Coastal Cleanup Day! Before she came to RBACS, Meredith was looking for volunteer opportunities that involved working with nature, and her passion for the environment led her to volunteer with us at Audubon. She enjoys working with the Audubon staff and learning about native birds and plants here at our sanctuary. Her favorite bird is the noisy Spotted Towhee, which can often be heard rustling in the bushes behind our nursery. Through her experiences at Audubon, Meredith has also learned about how invasive species can shape an ecosystem, and why it's so important to remove them and promote establishment of native species. On Aramburu, she has helped remove a variety of invasives, including acacia, ice plant, New Zealand spinach, and French broom. As the winter planting season approaches, Meredith is helping us prepare our nursery plants for transplanting onto Aramburu. This summer, she successfully took several cuttings of our endangered California seablite (Suaeda californica) plant and within just a couple of months, the cuttings took root and outgrew their pots! We hope to plant Meredith's seablite starts at Blackie's Pasture where we are partnering on a restoration project with San Francisco State University.
Meredith attends St. Patrick's School, where her favorite subjects are English and science. She hopes to continue her environmental work throughout the rest of her life, whether that's through a career path or volunteering. To others considering volunteering, Meredith recommends trying new things – you never know how much you might like something if you never try it! She also offers another valuable piece of advice: watch out for poison oak!
Thank you Meredith for all your hard work here at Richardson Bay Audubon!
Austin Clack
July 2017
Austin Clack joined the Audubon team in June as apart of a summer internship program. Prior to his work with Audubon Austin attended Sir Francis Drake High School where his passion for marine biology and environmental studies came into fruition. Pursuing his interests, Austin enrolled in courses such as inorganic and organic chemistry, as well as advanced placement biology, and advanced placement chemistry. However, on Aramburu Island located just around the corner from the Lyford House in Richardson Bay, Austin realized his love for marine ecosystems and their inhabitants. Working along side a team of biologists, Austin participated in a number of surveys and projects, from collecting invertebrate samples to eradicating invasive species. Throughout his internship with Audubon, Austin not only reinforced his excitement of pursuing a career in the environmental field, but also gained the hands on experience to continue such a goal.
Javid and Shiva Kaveh
March 2016
Siblings Javid and Shiva Kaveh both began volunteering at the Richardson Bay Audubon Center & Sanctuary during their freshman years at Redwood High School—Javid in early 2012 and Shiva during the summer of 2013. The school has a community service requirement as part of its Social Issues class for all freshman, with each student needing to perform ten hours during the school year.
As residents of Tiburon, the Center was an easy choice for them. It was close to their home and both were familiar with the site from field trips and summer camp. Javid was an avid fisherman, and was interested in the links between environmentalism and salmon conservation. He had a personal interest in the environment and preserving wild spaces and was concerned about how invasive species were affecting the place where he grew up. Once Javid started coming, it made sense for Shiva to join her older brother at a place he enjoyed working.
Their favorite jobs while volunteering included working on Aramburu Island, being on the boat, shorebird surveys, removing French broom and—especially for Shiva—deconstruction/breakdown of projects. When asked about their favorite birds, Shiva said she especially likes the beautiful hummingbirds and sparrows, while Javid said he loves seeing the huge flocks of cormorants moving around the bay during the winter.
At this point, both have far surpassed the ten hour school requirements. Javid had completed 80 hours before starting college at UCLA in the fall of 2015, and Shiva has completed 100 hours and continues to volunteer here regularly. They both say that volunteering at the Center has raised their awareness about conservation. For example, Javid says he pays attention when he hears that the County is landscaping with native drought-resistant plants, and says he's likely to do the same when has his own home someday. They see how the staff here works hard to protect the natural world and it affects how they interact with that world. For her part, Shiva says volunteering is also a chance to learn about something that she doesn't necessarily think about in the rest of her life and it allows her to see things from a different point of view.
Outside of the Center both are involved in various activities. Javid is currently studying engineering at UCLA, and spends what little free time he has climbing, hiking and thinking about travel. Shiva also volunteers at the local library, reads, listens to music, knits, and writes. In fact, in 2015 Shiva wrote and published a children's book called African Life with a classmate!
As for advice to other kids thinking about volunteering, they suggested that doing this kind of work can definitely help your career goals, especially if you're thinking about working on environmental issues; but that it's also a really great place to spend a few hours a week in a beautiful setting, doing hands on work outdoors, meeting new people and developing a better sense of yourself.
The staff of the Richardson Bay Audubon Center & Sanctuary is extremely grateful to Shiva and Javid for everything they've done, and continue to do, for the Center!
_____________________________________________________________________________________________________________________________________________
Zoe McCormick
January 2016
Exciting news from one of our youth volunteers, Zoe McCormick, who just received her acceptance letter from Cornell University, home of the prestigious Cornell Lab of Ornithology!
Since 2012, Zoe has been volunteering at the Richardson Bay Audubon Center & Sanctuary where she helps conducts bird surveys and leads monthly bird walks. Her interest in birds started much earlier, but it flourished during her high school years and led her to us where we were able to provide some opportunities for field experience.
Over the years she identified and counted thousands of waterbirds and shorebirds on Richardson Bay and Aramburu Island's new shoreline. In addition to field work at the Audubon Center, she took classes at College of Marin and California Academy of Science, banded birds in Yosemite with the Institute for Bird Populations, raised prize-winning chickens with 4H, and became a falconer.
Her passion for birds is broad and deep, and as a recent high school graduate she now has an opportunity to take it to the next stage. As she wrote in her college essay: "There is so much for me to learn! Working with birds is my life's calling."
We offer our heartfelt congratulations to this young birder who is just beginning her career, and we want to sincerely thank her for all she's done for us over the last three years. We are certain that she will contribute significantly to bird conservation; we just feel lucky to have had a chance to meet her along her path.
-The staff of the Richardson Bay Audubon Center & Sanctuary, December 2015
__________________________________________________________________________________________________________________________________________
Sam Engle
Sam Engle came to the Richardson Bay Audubon Center to fulfill his community service requirements for his freshman year at Redwood High School in the Spring of 2012. His community service hours were quickly finished, but 10 hours just wasn't enough for Sam. He has been coming back to the Audubon Center on a regular basis, always looking for the next restoration project and any excuse to get his hands dirty.
Sam is a true lover of nature and the great outdoors. He enjoys whatever task we are doing and for Sam, bigger is better. Sam has helped immensely with almost every project at the Audubon Center this year, whether he is carefully transplanting native plant seedlings or digging and moving dirt while creating our new propagation beds. Sam's dedication to volunteering at the Center has not gone unrecognized, as he has joined a group of only a handful of people to volunteer on Aramburu Island. While he has helped with almost every project at the Audubon Center, it's his attitude and outlook that is really extraordinary.
Sam's energy and passion for working at the Audubon Center is truly contagious. He brings a cheerful and positive disposition to the Center and it's truly a highlight of our week when Sam comes to volunteer. If all of Sam's generation had his upbeat attitude and enthusiasm for nature, I believe that the future of this world is going to look a lot brighter.
How you can help, right now
Make a gift today
Help us engage future conservation leaders! When you sponsor a youth leader, you help the birds.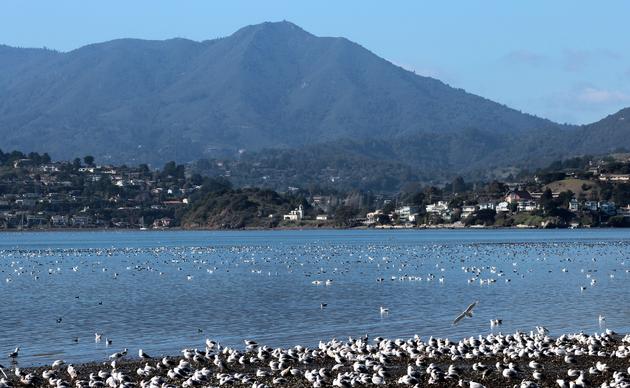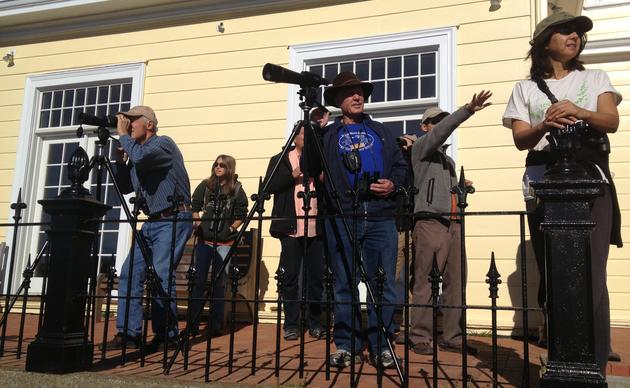 Read our stories
Our bi-monthly e-newsletter is filled with incredible updates about our work.